Seattle, Washington, Visited January 2000
Three stars. The Museum of Flight is an excellent mixed collection of civilian and military aircraft. Although the museum does have a strong Boeing Company presence, all types are represented and the museum does a good job of presenting aircraft that are both interesting and historically relevant to the Seattle and northwest area.
The Museum has first-class grounds, made up of two main sections: the Great Gallery, which contains most of the display collection and a few interpretive and rotating exhibits, and the restored "Red Barn", which is the original building of the Boeing Company (now moved to the museum grounds).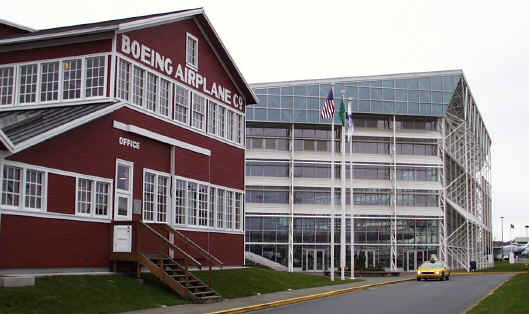 The Red Barn is devoted to the history of flight before WWII including development of air transports, air racing, engine static displays, and the history of the Boeing Company and the Red Barn itself.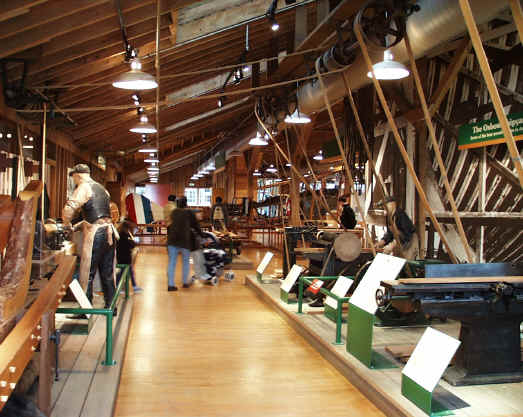 The Red Barn displays are well done and make up the bulk of the historical information presented by the Museum. Static displays consist of numerous models, artifacts, and films. Aircraft include a beautifully restored and uncovered Curtiss Jenny, an OX-5 powered Alexander Eaglerock biplane, and an extremely rare early Caproni monoplane.
The main gallery contains the bulk of the displayed aircraft collection, but it is also the sparsest display area in terms of background materials. There are a few display areas including interactive presentations on ATC with a mockup control tower overlooking Boeing Field, and a presentation on the space race with a restored Apollo capsule, moon artifacts, and a used and unrestored Soviet return vehicle. There is also a children's hangar with small homebuilt aircraft as play accessories and various films.
The main hall aircraft displays are high quality and there's a good mix of civilian and military aircraft.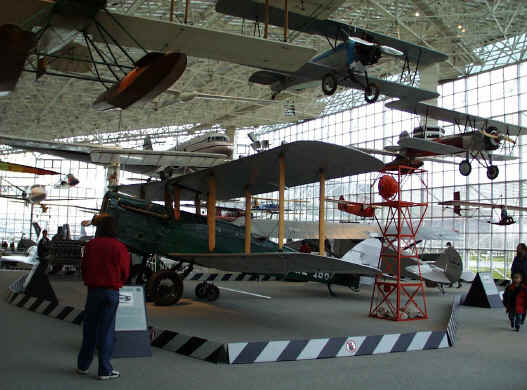 Unfortunately, like most "hang-from-the-ceiling" display halls, the Museum of Flight often has one looking at the underside of aircraft. There is a balcony along one side of the hall from which one can have a level view of the hung aircraft, but since the aircraft are far away it is difficult to see details. Bring binoculars.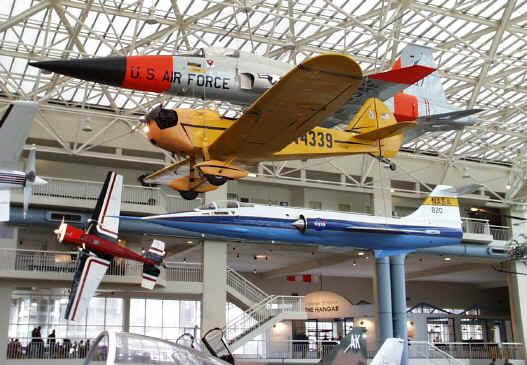 Interesting non-military aircraft that are displayed include:
Boeing Model 80A trimotor transport - completely restored, the only one around?
Flybaby recreational homebuilt
Douglas DC-3
DH.4 Mailplane
Spirit of Yakima record-setting glider
Cessna glider
Straight wing Stinson SR-5 on floats in bush configuration
Curtiss Robin
Moulton Aerocar
Stearman mailplane
Beech 18
Boeing 707 Air Force One
Ryan M-1
Fairchild 24W
Piper Cub
Swallow mailplane
Curtiss Jenny
Early Boeing floatplane
Aeronca C-3
BD-5
Military aircraft on display include:
M-21 Blackbird (modification of the A-12)
MiG 21
F-104 Starfighter
F9F Panther - Early Navy jet
WWII Corsair
Stearman
YF-5A
B-29 Stratofortress (in restoration)
B-47 Stratojet
A-6 Intruder
F-86 Sabre
F-4 Phantom
A-4 Skyhawk
Experimental tip-ramjet powered Hiller helicopter
The Museum gift shop has a rich selection of historical books, videos, and display models as well as the usual T-shirts and trinkets. If you like aviation books and pilot supplies also be sure to check out the Aviator's Store, on the opposite side of the field near the passenger terminal building.
The Museum of Flight is located on the grounds of Boeing Field, the major non-airline field in Seattle that is the home to several freight operations, the Boeing delivery center, numerous FBOs, and the museum grounds. The museum is currently space-constrained, having filled up the great gallery. The recent Air Force One acquisition, as well as the museum's B-29 and B-47 are stored and displayed outdoors.
There are several other aircraft in the Museum's collection that are not displayed on the grounds: A fully restored and flyable B-17, a restored and flying Model 247 transport, the original 747 prototype, an early 727-100, and a De Havilland Comet 4C. You can see some of these at the Museum restoration facility located about 30 miles north at Paine Field in Everett. Construction is underway as of Winter 2002 to build a new display hall adjacent to the current museum.
Boeing Field is an interesting airport for commercial aircraft spotters. It has a good mix of light aircraft and executive jet traffic, as well as Boeing test flight and delivery center flights, Boeing military including testbeds like a 767 modified with dorsal hump housing a large telescope, the occasional Russian AN-124 transport moving parts for Boeing, and DC-8 freighters.