Tucson, Arizona, Visited May 2000
Three stars. An astoundingly broad collection of former military aircraft, particularly large post-WWII fighters, large bombers and transports. Pima's collection is largely made up of aircraft donated by the military as they are finally retired from the reserve storage facility located at Davis-Monthan Air Force Base, which is located just across the street from the Pima museum.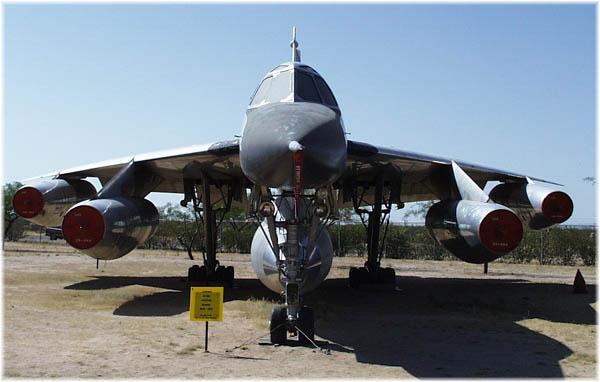 As such, this is definitely a military focused museum. There are few civilian aircraft displayed, I think about five including an early nicely restored Lear jet and a biplane or two. That said, and even given my bias against military aircraft, Pima is definitely worth the visit because of the size of the collection, including unusual and rarely displayed post-WWII jet fighters, large bombers, and a rich collection of transports and refueling aircraft.
I found the large transports and bombers to be the most interesting, since the sheer size of these aircraft has prohibited their preservation and exhibition in most aircraft museums. At Pima, display space is not a problem, and the physical proximity of the various transport types lets you see the relative sizes of the aircraft firsthand. Ones that stand out in my mind are:
Fairchild C-82 Packet transport
Fairchild C-119 Flying Boxcar transport
Fairchild C-123 transport
Northup trimotor light transport, experimental and never procured
Douglas Globemaster II transport
Boeing KC-97 tanker
Boeing B-52 bomber
Boeing KC-135 tanker
Convair B-58 bomber
Martin Mariner
Boeing YC-114 STOL transport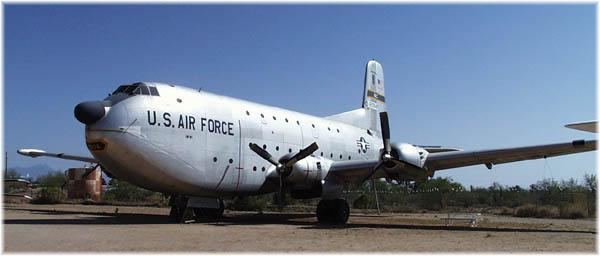 Most of the collection aside from the WWII bombers is displayed outdoors. The great thing about this is that the aircraft are accessible, so you can walk up and stick your head into wheel wells, walk under fuselages, and get a good feel for the construction techniques as well as the physical size of the aircraft. The disadvantages, though, are sweltering heat, brutal sun (bring a hat and shades), a lot of walking (bring good shoes), and the inevitable physical deterioration of the aircraft themselves from outdoor exposure (even in the Arizona desert weathering does occur).

Pima also has a few of the usual museum favorites in well-restored condition: B-29, B-24 indoors, and a SR-71.
Although I was unable to take it myself due to time constraints, I'm told that the guided tram tour of the grounds is very good because the docents relate stories and histories on the aircraft. This is good because background material was almost non-existent. There was a small area at the front of the museum with interpretive material, but the bulk of the collection was labeled only with type or simply not labeled at all, leaving identification as an exercise to the visitor. Definitely a museum that you should bring a spotter's guide for.
Overall, though, I greatly enjoyed being able to walk around beneath the transport aircraft and look at the details of construction. This more than made up for a lack of pristine restorations. I would have appreciated background material, although the primarily outdoor exhibition format would make presentation of such material difficult.
Pima is located adjacent to Davis-Monthan Air Force Base, which is the home of the military "boneyard" reserve aircraft storage facility known as AMARC. There are tours of the boneyard that leave from Pima on an infrequent basis and I think one of these tours would be fascinating based on the limited peering through the fence that I was able to do. I plan to make a follow-up visit to both Pima and AMARC in the future, this time allotting more time and bringing a camera.