Balboa Park, San Diego, California, Visited September 2000
Four stars. The San Diego Aerospace museum has a wealth of historical background material and a good collection that spans early aviation, WWI, golden age, WWII, Korean War and Space age artifacts. The only downside is that the museum does appear to suffer from a lack of space.
The museum is located in Balboa Park, which contains a number of interesting museums and the San Diego Zoo. The Aerospace museum building is unique in being doughnut shaped. As you walk around the doughnut you enter different historical groupings, including Early Aviation, WWI, Golden Age, Aerobatic, WWII, and Korean War. Each grouping is displayed in context with a considerable amount of historical background material, a limited "set" appropriate to the period, mannequins in period costume, and displays of artifacts as well as the airplanes themselves.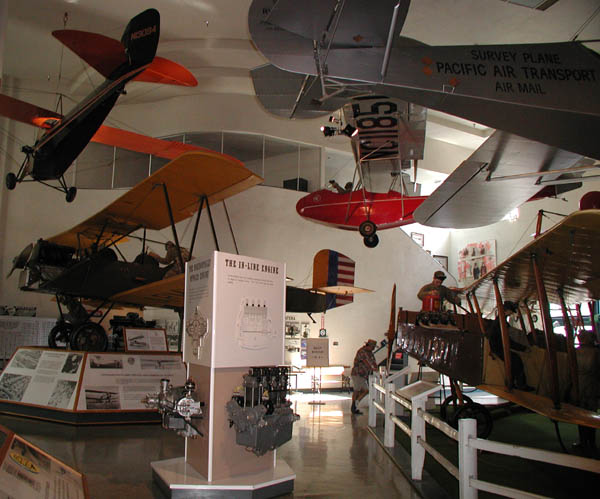 I found this presentation to be very engaging, and it provides a hook to understand context even if the casual viewer doesn't stop to read the background information. The background information was quite rich, including extensive historical text, engines, costumes, artifacts, and models.
For example, in the WWII areas there are two groups: one depicting the Battle of Britain with a Spitfire and BF.109 displayed with a period English roadster, road signs providing directions "Biggin Hill Airfield", and a flight briefing shack with period posters and uniforms. The other area covers the carrier air war in the Pacific.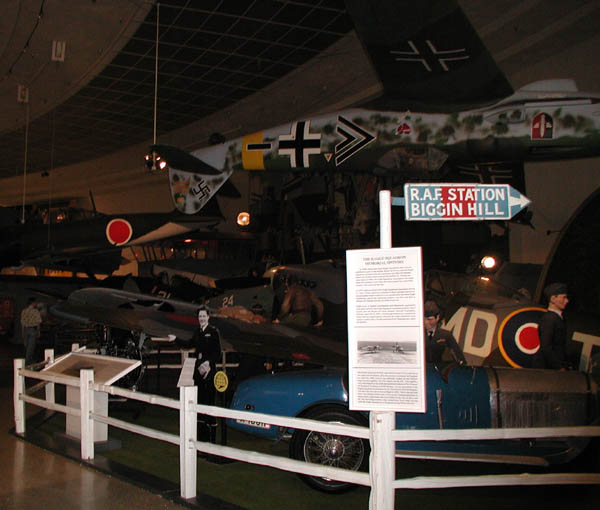 The collection itself was a good mix of civil and military aviation. Displayed civil aircraft include:
Wright Flyer (reproduction)
Deperdussin Model C
Wright Vin Fizz (reproduction)
Lincoln Beachy Looper
Sopwith Camel
Fokker Triplane
DeHavilland DH.4 mailplane
Fleet Model 2
Aeronca C-3
Ryan PT-22
Ryan STM
Waco YKS-7
Ryan B-5 Brougham
Spirit of St. Louis (reproduction)
Pitts Special
Ford Trimotor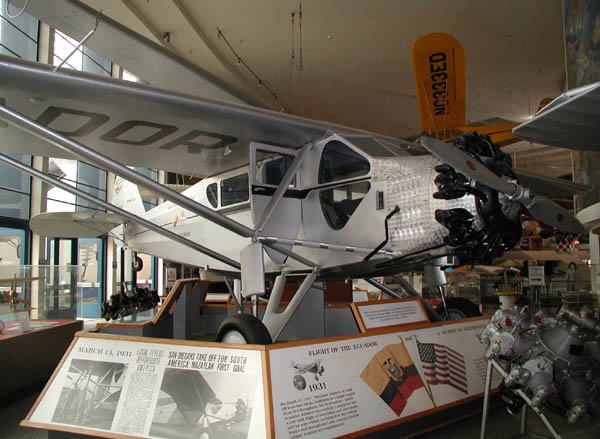 There's also a large collection of detailed models and engines of all sorts, ranging from WWI rotary engines through jets. Interesting military craft beyond the usual assortment of WWII fighters include:
The WWI collection
SR-71
Convair Sea Dart jet powered seaplane fighter prototype
Consolidated PBY Catalina
Mercury, Gemini, and Apollo space capsule reproductions
Ryan X-13 vertical docking experimental aircraft.
In the center of the building, the "doughnut hole" area of the museum has recently been roofed over, enclosing a Consolidated PBY Catalina, a Ford Trimotor, and some fighters. At the entrance of the building is a reproduction of the Spirit of St. Louis, which is well done to the smallest details.
The museum does a good job of covering San Diego's local aviation history, especially the various Ryan companies. I thought that Information and exhibits on the Consolidated (later Convair) company would have figured more prominently, but there was lots of material on Major Reuben Fleet.
The San Diego museum's collection is in good shape, and the appear to have a strong volunteer program. Most of the exhibit aircraft have small plaques next to the exhibit naming the "plane captain" volunteer who is responsible for upkeep. The volunteers are also very friendly - one noticed I was looking at the valve gear on a Gnome rotary on a Deperdussin and offered to turn the engine over to see the valves working.
San Diego does have a few disadvantages - they are very space constrained, and it is difficult to take photographs of the collection with so many planes packed into such a small space.
There's a museum annex and restoration facility located at Gillespie Field in El Cajon, about a 30 minute drive away from the main museum. I did not tour the restoration facility but there were several Vietnam-era Jet fighters sitting within the ramp enclosure.