Here's a 1933 Kinner K-model Sportster project. The Kinner name is best known as a builder of engines during the 30's and early 40's, in particular a 5 cylinder radial that powered many early biplanes of the 30's as well as the well-known Ryan PT-22 USAF trainer in the 40's.
In addition to engines, Bert Kinner and the Kinner company also built a few dozen aircraft at Glendale during the early 30's. The earliest Kinner planes were biplane designs, but Kinner eventually settled onto a low-wing design that had a relatively long run, and more importantly served as the model and inspiration for several other aircraft makes through the 30's and into the 50's in the form of the Callair.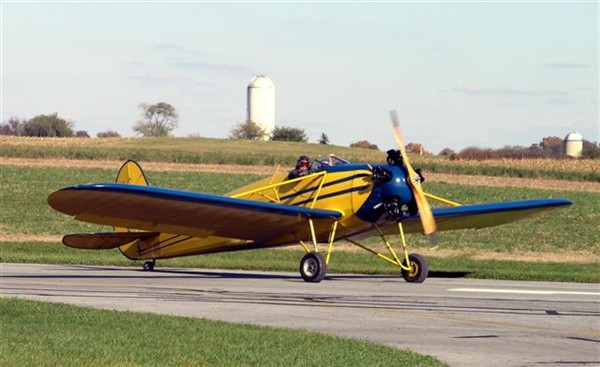 Photo by Alex Davidson
The Sportster is a two-place side-by-side seating plane originally with a 100 HP Kinner K model 5 cylinder radial engine. Many of the Sportsters still in existence have been modified with larger Kinner engines such as the 125 HP B model. The construction is conventional with tubular steel fuselage faired with wood, welded steel tailfeathers, and wood wings.
My project is politely termed a "basket case", as in comes in a basket. Here's the current condition: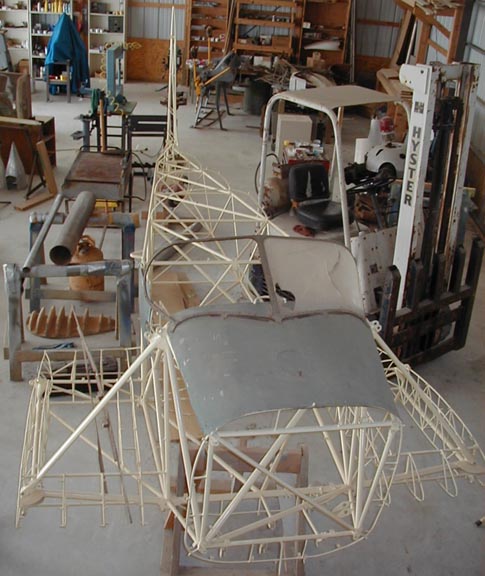 Interestingly, the designer on the Sportster projects was a freshly minted new aeronautics graduate named Max Harlow. Mr. Harlow eventually went on to work at Lockheed, several other SoCal aviation firms, and ultimately ended up building his own aircraft, the Harlow PJC-2.
A unique feature of the Sportsters was the optional folding wing which pivots around the rear spar attachment to the stub wings welded to the fuselage. Here is a restored example with the wings folded for storage: