The Harlow PJC-2 is a 4-place metal monoplane from the late 30s. It is named after Max Harlow, who was an aeronautical engineer in southern California from the late 20s to the mid 40s, and after Pasadena Junior College (PJC). At the time the airplane was designed, Max Harlow was working as an instructor at the college, and the PJC-2 was the second design done as a class project. The design looked good enough that Harlow went into business actually building the aircraft at Alhambra Airport in LA in 1940. Here's a flying example of a PJC-2:
The Harlow company built planes through the early 40's, including some trainer designs that were shipped as sub-assemblies to India to be assembled into PJC-5s. The PJC-5 which was essentially a two-place tandem seat version of the PJC-2. By 1946 the Harlow company shut down and sold off the airport to real estate developers as LA's suburban sprawl overtook the airport. The story goes that the only time the Harlow Aircraft Company ever made money was when it got into the real estate business.
There's an interesting historical link with another of the airplanes in my collection. Early in his career, Max Harlow was the aeronautical engineer who worked on the Kinner Sportster. You can see the difference that only about 8 years made in the rapidly advancing aviation technology of the 1930s. Here's a photo of Max Harlow, probably posed in the Harlow factory. Max is on the right.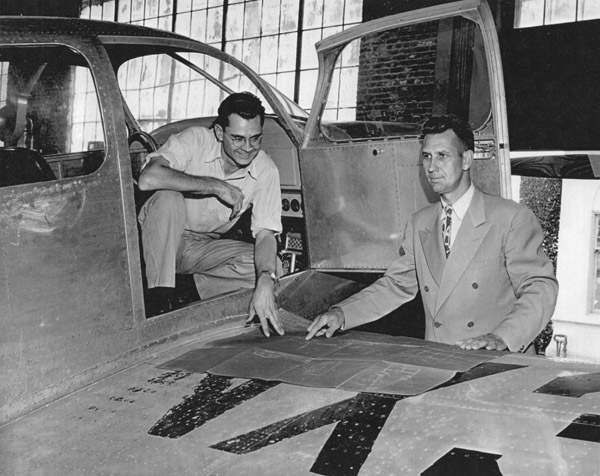 There were about 11 PJC-2s built. My Harlow is serial number 9, and it is a project in pieces. Although disassembled, overall the project is in good shape and is mostly in need of systems installation (wiring, control cables, instrumentation, engine controls & systems), and then of course paint and interior. Currently, the project is in storage in Auburn, Washington. This picture shows the project packed up for a road trip from Oklahoma to Washington: